Benoît Heggen: his feet on the ground, his head in the stars
He admits it without any particular pride: when he started making wine in 1995, he well and truly went out on a limb and his neighbours, fruit growers like him, took him for a dreamer. Benoît Heggen, who lives and works in Warsage, in the heart of the Herve region, has not abandoned his apples and pears, but growing grapes has become his second trade. "I've got both feet on the ground and my head in the stars" he says, laughing. When the conditions are right, he produces between 5,000 and 6,000 bottles, most of which are pre-sold from one year to the next. He makes three single-varietal cuvées: a Chardonnay, a Pinot Gris and a Pinot Noir, as well as a sweet wine for which, he says, he "lets himself go a bit during blending" (Pinot Gris, Siegerrebe, Gewürztraminer, Solaris and Chardonnay). His bottles are decorated with a sticker depicting the sole coin struck in Dahlem under John I, Duke of Brabant (1282), against a pastoral background. If people remark upon the 'folkloric' aspect of his presentation, he replies: "I don't care. I like it." Got it: Benoît Heggen is strong-minded.


Plans to extend the vineyard

The Marnières vineyard covers just over two hectares and has a total of 8,000 vines. The largest plots lie on the slopes of Aubin-Neufchâteau, south-facing, right opposite the old fort. The ground is dotted with silex and Benoît Heggen is determined to preserve the identity of this chalky region dating from the Upper Cretaceous period. He bought a second, smaller vineyard from Philippe Gillain, father of the actress Marie Gillain, where the vines grow in loamy, sandy soil. Benoît Heggen has opted for traditional grape varieties (with the exception of Solaris) and aims to get the best out of the fruit. To achieve this, he limits the yield to 25 hectolitres per hectare, as well as restricting the number of bunches on the vines.

In 2019, Benoît Heggen is to plant 1.3 hectares of Pinot Noir to meet the ever-growing demand. Thanks to this extension of the vineyard, his range is expected to be expanded to include a sparkling wine.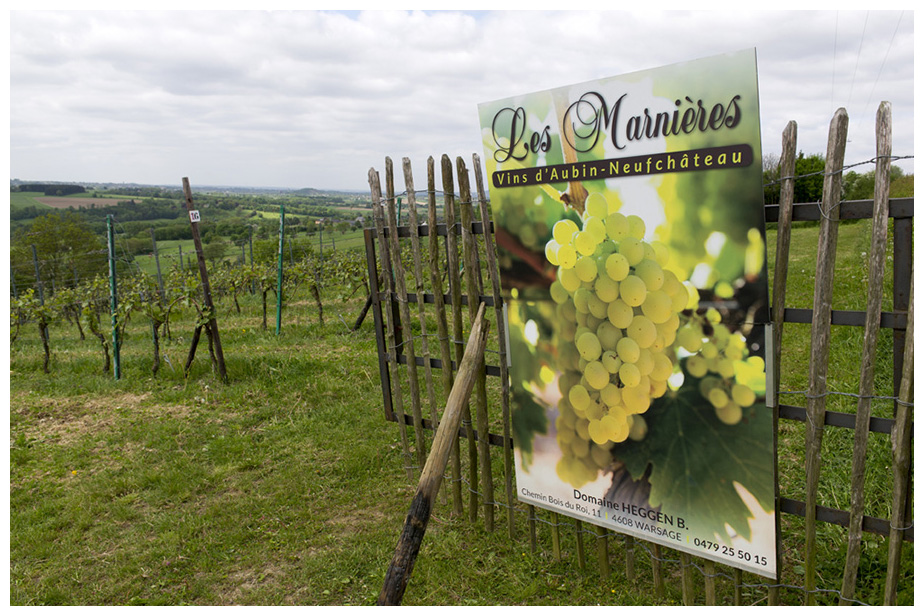 One of Belgium's best winemakers

To produce the best grapes possible "so that I don't have to mess around in the winery": that is the philosophy of this Walloon wine grower, who does not claim to be 'organic' but works as cleanly as possible. The Chardonnay and Pinot Noir selected by Popsss are matured in oak casks (new or multi-wine) for several months. The vineyard's sweet wine is produced using the straw wine technique from the Jura: the bunches of grapes are dried on filter screens for several months to guarantee a high sugar concentration (raisining). It is the only wine of this type made in Belgium and it's a killer!